How-To Guide
How to lodge your Tax
Return online in minutes
Looking for the best way to do your Tax Return quickly and easily? Look no further.
Our online Tax Return has been said to be the easiest lodgement someone has ever done!
"Simple, no frills, maximum return"
Simon K
With many happy customers recommending our service to friends & family and saying they will be using our service for years to come. If you're looking for the best online tax return in Australia, you've found it.
So easy you could even do it from your couch.
Doing your Tax Return online is now very easy with our simple and straightforward process. Not to mention very convenient — you could even do it from your couch.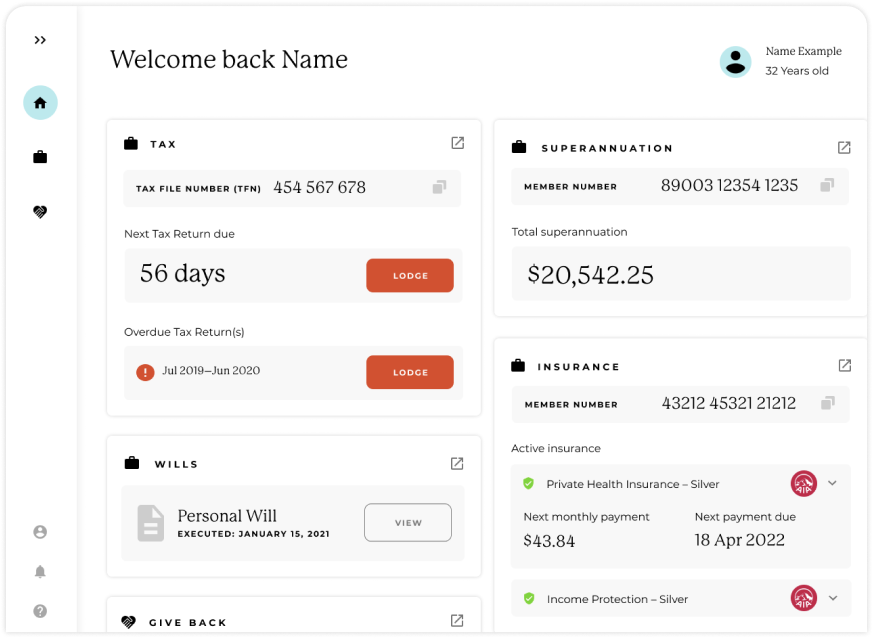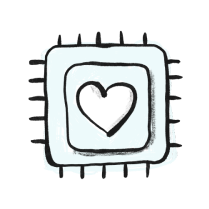 4 facts on how One Click Life online Tax Return helps you lodge your tax fast.
Automatic pre-filled income details
One Click Life automatically pulls data from the Australian Tax Office, pre-filling your Tax Return details, to save you the time and hassle of locating your PAYG or income statement.
Reviewed by our Numbers Geeks
You never have to worry about running into any problems with the ATO. Our highly qualified accountants ensure your Tax Returns are compliant with the Australian Taxation Office, while making sure you're getting the best tax refund possible.
Select and add from pre-populated lists
There are 4 simple steps in your Tax Return: Personal Details, Income, Deductions and Results.
At the top of each section you have the option to check for pre-fill data.
A list of deductions will be automatically populated based on your occupation
Simply click on Add to add them to your Tax Return
Live expert help and guidance with a real human
Need help with tax deductions? Got a question about what things you can claim on tax? You can talk to our friendly, trusted accountants anytime while you're doing your Tax Return. No appointments needed!
There are options to easily upload additional documents if you need
We're on your side to help you get a better tax refund.
Follow this step-by-step process
to lodge a Tax Return online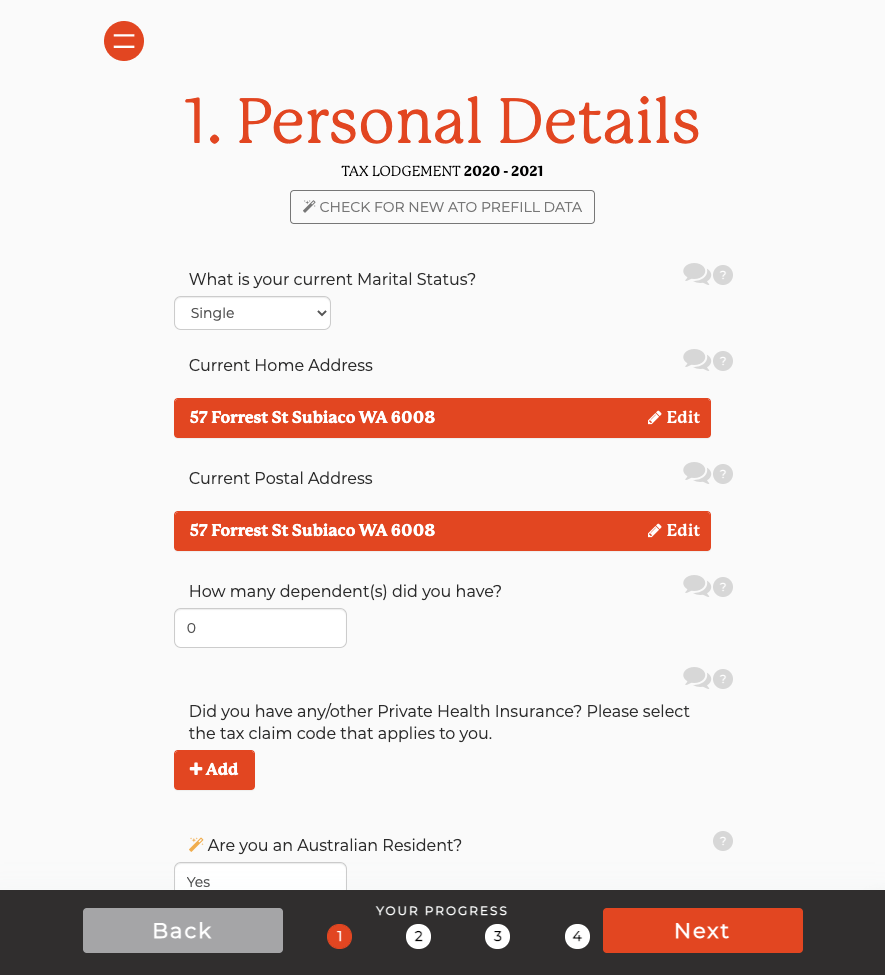 Step 1
Personal Details
Your personal details are automatically pre-filled from ATO records
Confirm and edit your address if needed
Confirm, edit or add Private Health Insurances
If you get stuck at any stage, you can speak to a friendly expert using live chat, or over the phone.
Hit next to go to the Income page.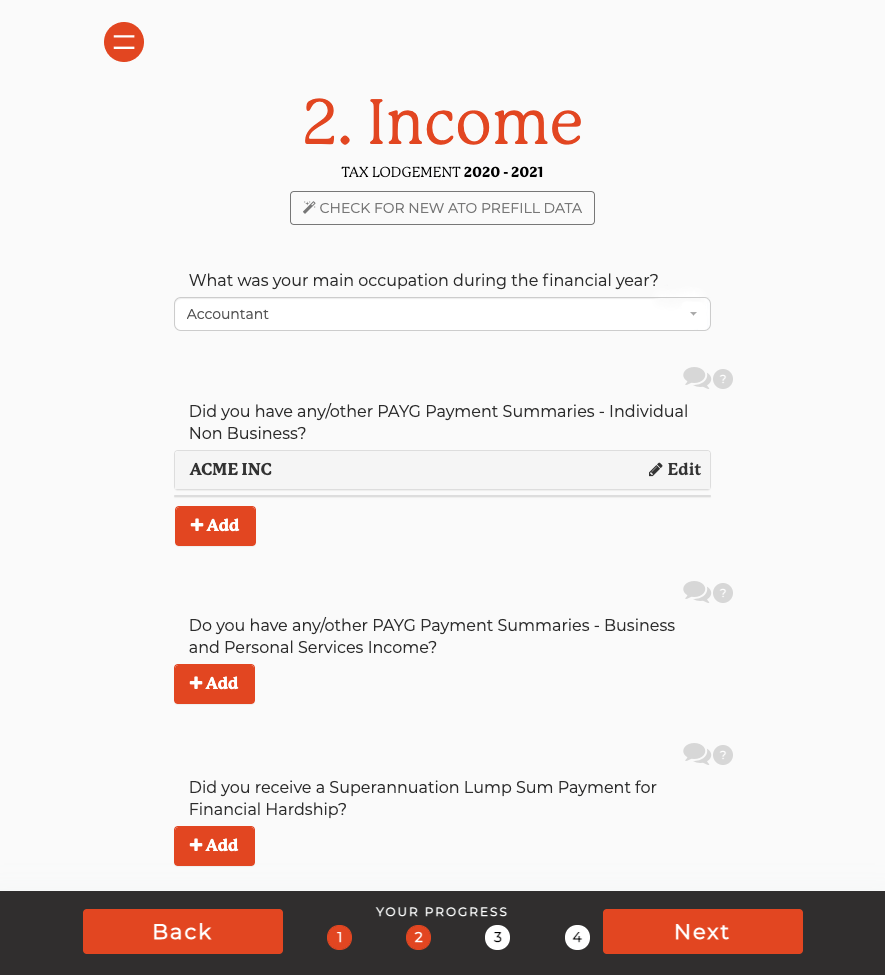 Step 2
Income
This is an important step to consider, as it will have a direct impact on getting you a better tax refund. The ATO also requires you to provide at least one occupation.
Select your occupation for quick and easy pre-populated deductions on the next screen. Confirm and edit your address if needed
Have additional income or PAYG payment summaries? Simply click the Add button.
Not sure what you need to add? Speak to a real accountant on live chat by clicking the speech bubbles, or over the phone for quick and easy guidance.
Wondering what are the tax deductions you can claim on taxes?
Let's move onto the deductions screen.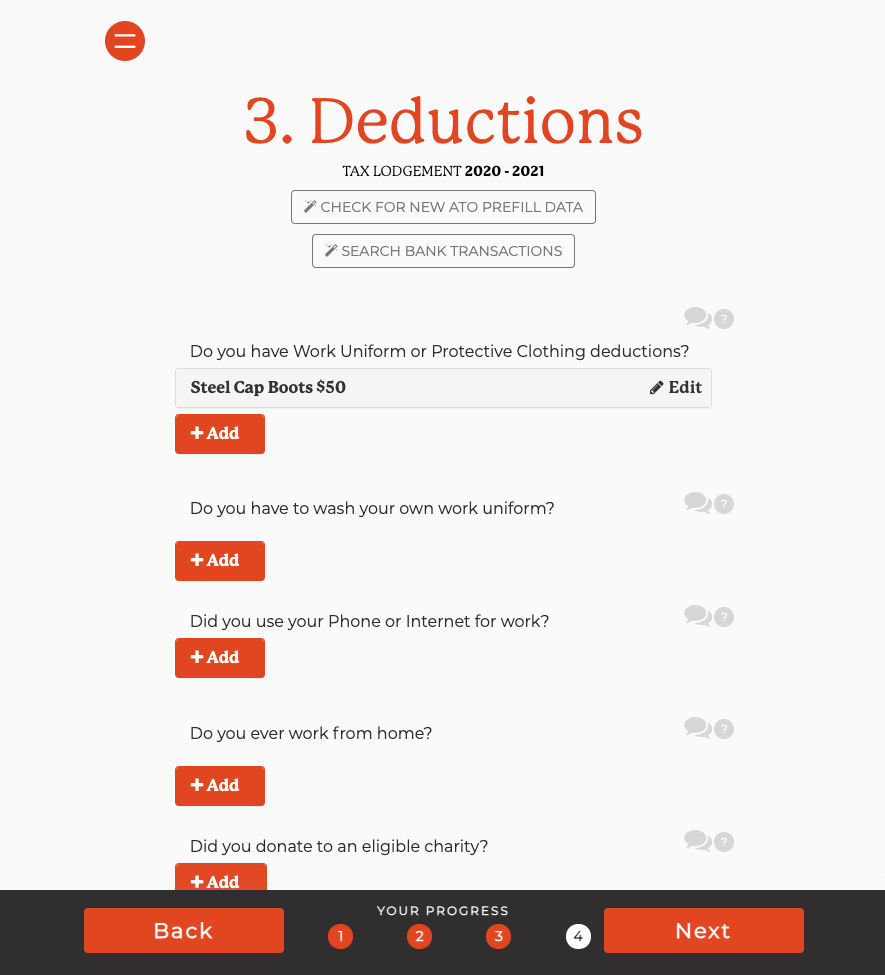 Step 3
Deductions
It's time to maximize your Tax Return. Now, if you selected your occupation on the Income page, you will see how easy it is to add tax deductible items.
A list of pre-populated deductions that are common for your occupation are automatically suggested.
All you have to do is click the Add button to add deductions that apply to you, making it a super quick simple process!
To make things even easier, the "Search Bank Transactions" at the top of the page means we'll find all claimable transactions without you having to dig around for receipts.
Safe, secure and protected. We'll never store your bank credentials or store your transactions.
Not sure what you can claim on tax? Jump on a call with a real accountant, or hop on live chat for guidance while doing your Tax Return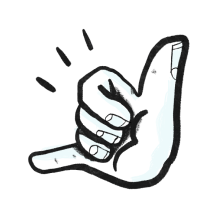 Remember, you don't have to face the ATO alone. OCL's Numbers Geeks are on your side and are always looking out for your best interests.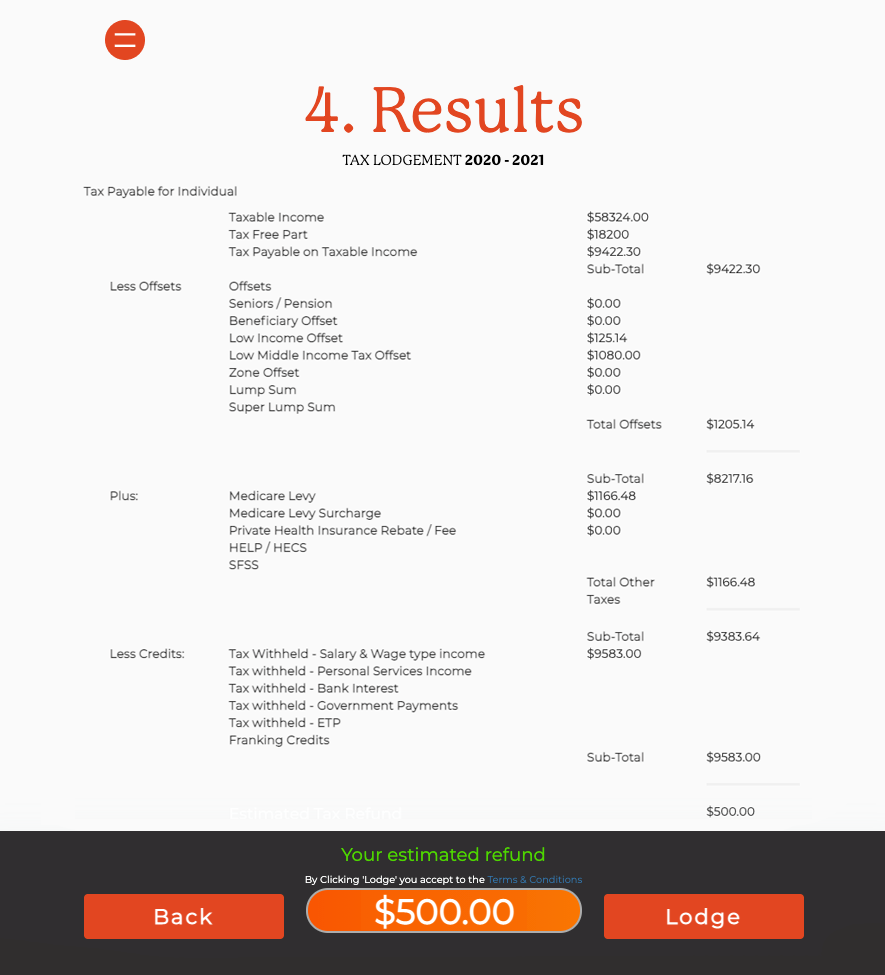 Step 4
Results
Based on all the information you have selected in prior steps, you may now view your estimated Tax Return before it is lodged.
Something doesn't add up? Not happy with your Return? Speak with a friendly tax accountant to make sure you're getting the best tax refund.
It's time to lodge your Tax Return online and get that refund into your bank account as fast as possible!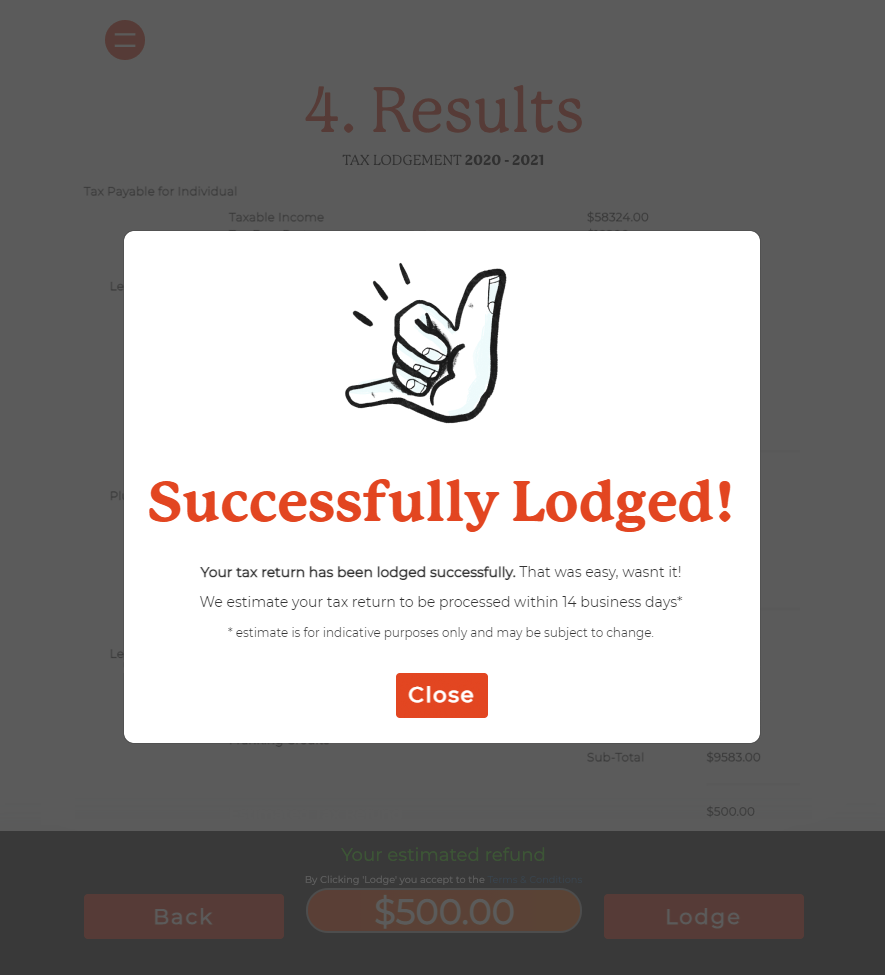 Step 5
Congratulations! You just completed your Tax Return.
How easy was that? You can now see why 98.1% of our customers love using One Click Life to do their Tax Returns online.
Your refunds will be deposited into the bank account shown. Make sure these details are correct to avoid any tax refund delays.
Our qualified tax accountants will review your Tax Return one last time to make sure everything is correct so you aren't bothered by the ATO. If something isn't right, we'll get in contact with you immediately.
Click Complete Lodgement to get your tax refund faster.
Bonus Step!
Here's a special gift from us to you
Who loves getting random surprise gifts? To be honest, who doesn't? To thank you for lodging your Tax Return with One Click Life, our Random Acts of Kindness is all about giving back to you, our customers.
You'll be given $10 for free.
OPTION 1: You have the choice to either donate it to the Royal Flying Doctor Service Western Australia, where every penny goes towards our brave doctors helping Aussies all across the nation.
OPTION 2: Keep it for yourself and we'll add it to your tax refund!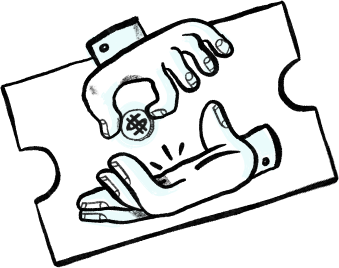 Need help with lodging your Tax Return online for the first time?
No need to be nervous about submitting a Tax Return online. You can contact our friendly numbers geeks (expert accountants) anytime throughout the whole process.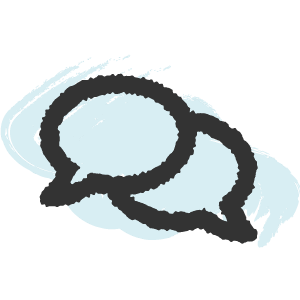 Simply click on the speech bubble icon wherever possible.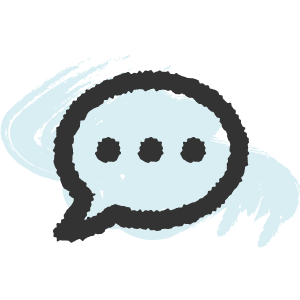 Type your message & hit "Ask for Help!"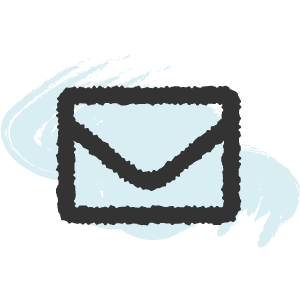 A Numbers Geek will respond as fast as possible and notify you when they have responded.
You will also receive an email notification sent to your inbox or you can access notifications via the side menu on the One Click Life app. Simply click 'Notifications' and then click 'View Message'.
Or, speak to a real human over the phone anytime for advice and guidance throughout the process.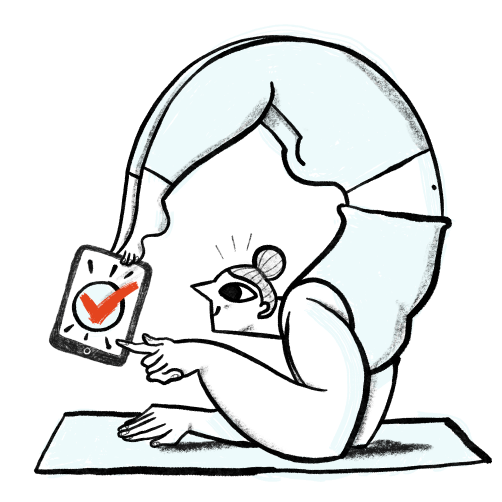 Don't waste time comparing ATO myTax vs One Click Life
Remember you don't have to face the ATO alone. At One Click Life, we have made doing your online Tax Return convenient, easy and stress-free. There's no messy paperwork or confusing tax jargon. We're on your side to help you get a better tax refund while making sure you're in the good books with the ATO.
Already have an account? Sign in now
Spend less time on tax
Your time is important. Our simple and convenient process only takes a couple of minutes, so you can get back to doing what you love.
Maximise your refund
Get deduction tips from our friendly Numbers Geeks and boost your Tax Return.
Enjoy financial freedom
We'll take care of your taxes, so you can focus more on what matters most in life — going on adventures.
Feel more confident
We're on your side and help you reduce the risk of being audited, so you don't have to face the ATO alone.
Give back to the community
Always wish you could do more? Feel good about doing your taxes with a special gift that you can keep, or donate with our Random Acts of Kindness program.
All your information protected
Verified & secured by Microsoft, your information is safe and encrypted with Australia's first and only, advanced security system that's anti-fraud.