Are you considering purchasing a home but feeling overwhelmed by the process of securing a mortgage? A mortgage broker may be able to assist you in finding the right home loan.
But what does a mortgage broker do, and how do you know if they are right for you?
What is a mortgage broker?
A mortgage broker is an intermediary who works with various lenders to find the best mortgage products for their clients. They have access to a broad range of home loan options, including loans that may not be available to the general public.
To select the most suitable loan options, the broker will examine the borrower's financial status, credit score, and other important aspects. They will assist the borrower in applying for the loan, submitting the relevant papers, and guiding them through the mortgage process until the loan is funded.
A mortgage broker may be especially helpful for first-time homeowners or those who are unfamiliar with the mortgage process, as they can give expert advice and support throughout the process.
How are mortgage brokers paid?
Mortgage brokers are paid through a commission-based system, earning a percentage of the loan amount when the borrower secures a mortgage through their services.
This compensation model provides a financial incentive for brokers to find the best loan options for their clients, and they are obligated to be transparent about their commission rates and fees.
While working with a mortgage broker can be beneficial, borrowers should carefully review their loan documents and ask questions about fees before agreeing to work with a broker. By doing their due diligence, borrowers can access expert guidance and a broad range of loan options, while avoiding surprises and ensuring a clear understanding of the costs involved.
Benefits of using a mortgage broker
What are the benefits of working with a mortgage broker? Overall, using a mortgage broker for your home loan just makes life simpler. Here are some additional benefits that make utilising a broker worthwhile: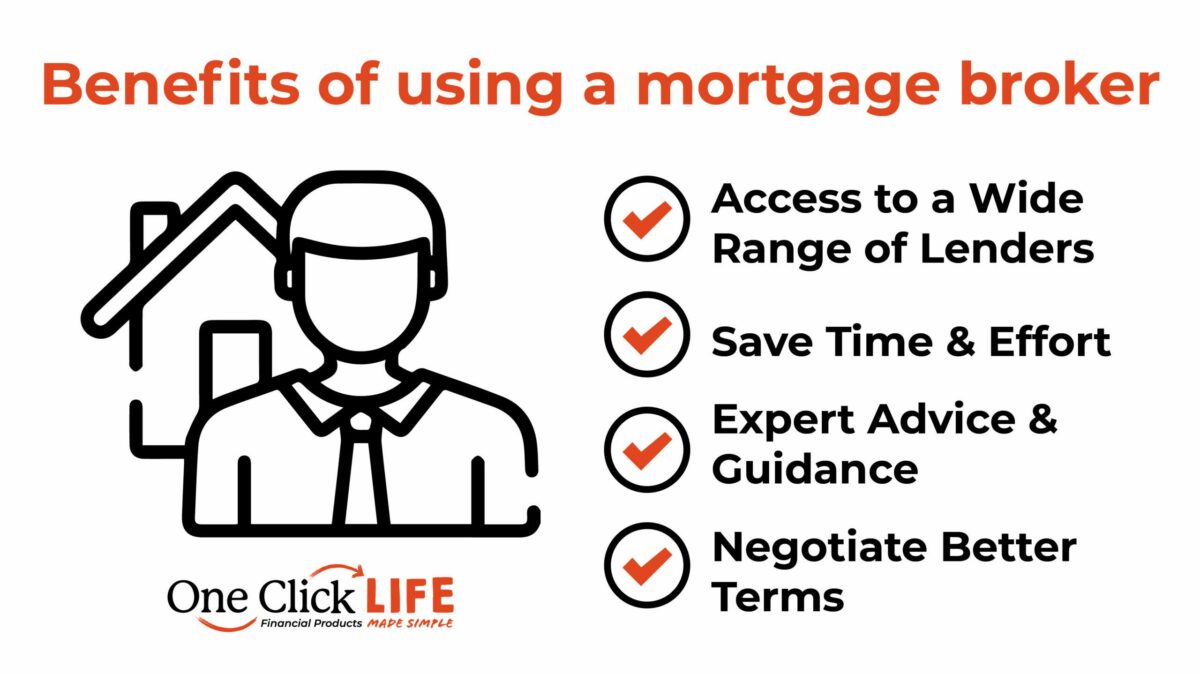 1. Access to a Wide Range of Lenders
A mortgage broker has access to a wide range of lenders and can provide you with a variety of loan options that you may not be able to find on your own. This can help you find a loan that fits your unique financial situation and goals.
2. Save Time and Effort
Finding a home loan can be a time-consuming and overwhelming process. A mortgage broker can save you time and effort by performing the research and legwork for you. They can help you find the best loan options that fit your circumstances and guide you throughout the process.
3. Expert Advice and Guidance
A mortgage broker can provide you with experienced advice and guidance throughout your mortgage process. They can help you understand the different loan options, and provide you with insights on which loan is best for your unique situation.
4. Negotiate Better Terms
Mortgage brokers have relationships with multiple lenders, which can help them negotiate better loan conditions on your behalf. They can help you find a loan with a cheaper interest rate, better repayment terms, or lower fees.
What should you know before selecting a mortgage broker?
There are a few essential pieces of information you should be aware of before choosing a mortgage broker. This will help you make an informed decision and ensure that you find a broker who is the right fit for your needs. Here are some of the things you should know:
1. Broker's Expertise and Experience
When selecting a mortgage broker, evaluate their degree of skill and experience. Inquire about their past and industry experience, and don't be hesitant to ask for recommendations.
A reputable broker should be able to present you with samples of previous clients and give you an idea of their degree of experience.
2. Broker's Network and Access to Lenders
One of the key benefits of using a mortgage broker is their access to a variety of lenders and mortgage products. It is useful to ask the broker about their network and the lenders they work with.
Do they have relationships with a wide range of lenders, or do they primarily work with a few specific institutions? This can impact the range of options that they are able to present to you.
3. Fees and Compensation
Mortgage brokers typically work on a commission basis, which means they are compensated by the lender once the loan is approved. It's important to understand how the broker is compensated, and what fees they may charge.
If you have a clear understanding of how your broker's fees are being paid, you can understand the overall impact it has on your mortgage.
4. Broker's Customer Service
Finally, assess the degree of customer service provided by the mortgage broker. A good broker should be responsive and attentive to your needs and should be willing to answer your questions throughout the process. Look for a broker who is communicative, transparent, and simple to work with, as this can make the mortgage application process much smoother and less stressful.
Work with an Online Mortgage Agent you can trust!
Are you in the market for a mortgage broker? One Click Life has access to over 40 lenders and can help you find a solution, no matter your situation.
Not only do we specialise as an online mortgage agent, but we also provide a convenient platform for managing your life's admin, including taxes, private health insurance, and wills.
Let One Click Life handle your home loan, tax return, will, and private health insurance so you can focus on the things you enjoy.